What's going on, people? Dash Jordan here and today is the day before Halloween so, Happy Devil's Night! Speaking of Devil's Night, some of you may remember some of my articles from a while back when I was talking about the remake of the 1994 gothic action film 'The Crow'.
Don't worry, I'm not gonna go on a tirade like last time. In fact, I would like to apologize as that was a Dash News segment and it was long before I created my Dash Rants, so I feel as though I was highly unprofessional when I wrote that. Could you blame me? I've wanted to talk about this film for a long time. Why? I think it's pretty obvious. 'The Crow' is one of my personal favorite films of all time.
Sorry, River. To be fair, my original plans for this year's Halloween was to do a proper review of 'The Crow' on Mischief Night. However, I've started to realize that…maybe it would be the best thing to do. I mean that in the most respectful way possible. Much like my review of 'The Rocky Horror Picture Show', I felt that there wasn't a whole lot for me to talk about. Besides, everyone and their mothers already know why 'The Crow' is such an amazing film, or least understand why it deserves the respect and admiration it's gotten over the years. The acting, the characters, the story, the visuals, the tragedy behind the film, the tragedy behind the creation of the original comics… What else could I say as a critic? So, I think that it's only fair to at least talk about the film as a fan, and why the movie is so important to me. After all, we're so close to Halloween…what better time than now?
I was about ten or eleven years old when I first caught this movie on TV one night. I've heard of the name 'The Crow' before when I was much younger, but I didn't know much about it to show any interest, I'll admit. When I finally had the chance to watch this movie…I was immediately hooked. I grew up with dark-superheroes, I used to watch movies like 'Spawn' and the Tim Burton 'Batman' movies, so I thought I knew what to expect with 'The Crow'. No, I was wrong. This was much different than what I was used to. It was something of a horror film, it was also a revenge tale, an action film, a cop thriller…but at its core, it was a love story…I was not expecting that, and I surprisingly loved every minute of it. Ladies, THIS is how you trick your husbands and boyfriends to watch a romance movie, just tell them it's a gothic superhero flick about a vigilante ghost. Then you realize, it's much deeper than that. Much more substance than…
Whatever the hell that is. All joking aside, it was on that night I became a fan. The very idea of 'The Crow' was created out of rage and plays with some of our darkest urges. If any of the things that happened to Eric Draven and Shelly really happened to any of us, most of us would want to inflict nothing but great vengeance and furious anger on the scumbags who did it. Obviously, we can't rise from the dead and paint our faces like a mime from Hell, but the movie is so much relatable than you'd think.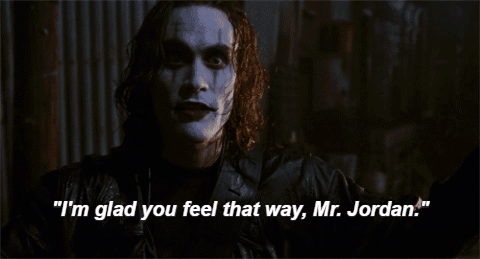 That's another thing that made this movie work so much, no one else could've played this role like Brandon Lee. There's been plenty of homages and imitations from the sequels and the TV reboot, but there was only one Brandon Lee. The man had such a personality that was downright infectious. You laugh with him and you hurt with him. Before this movie, I was only familiar with Brandon's father; the legendary Bruce Lee. After this movie, Brandon became one of my favorite actors and I wanted to see more of him. You could imagine the look on my face when I discovered what happened to him. Luckily, Brandon also gave us some pretty underrated action flicks like 'Showdown in Little Tokyo' and 'Rapid Fire'. I personally recommend those, as well.
While I'm on the subject of this about this movie that made me a fan, probably the biggest contributor to this movie's success has to be the music. Hands down, one of the best movie soundtracks. Nine Inch Nails, Rage Against The Machine, Pantera, Stone Temple Pilots…my taste in music became more diverse than anything after listening to the film's music. But, there was one band that I immediately fell in love with at such a young age, and I didn't even know their name at the time. Thank God for the advancements of Internet access, when I finally found out who these guys were…
The Cure instantly became one of my all-time favorite bands, and frontman Robert Smith became one of my heroes. I've been collecting their albums ever since and I now have almost all of them. I was already pretty invested into this masterpiece, but that song 'Burn' from The Cure cranked everything to 11, and I was hooked.
Then there's what's probably the best supporting characters in any movie. Ernie Hudson, I already knew from 'Ghostbusters' and other roles. That man is always a cool mother, and I've enjoyed every role he's played. Even the villains were great in this movie, you love to hate these A-holes. Out of all of the secondary actors, I absolutely loved Rochelle Davis as Sarah growing up. Hell, I still do.
Ever since this movie, she hasn't acted in anything up until 2009 and I can understand why. I felt so bad for her and she lost someone who was truly her best friend during the making of this movie. As I've gotten older, so did my appreciation and respect for what it took for 'The Crow' to be made. It actually makes me happy to know that as I look back, there's still no real flaws with this movie. It especially made me a little teary-eyed now to now that Rochelle Davis is doing much better.
I would also like to point out that this movie also cemented my love for comics and graphic novels. I mean, I used to always like them but I was always more into the movies or cartoons. Very rarely did I take the time to sit down and read a comic growing up. I want to say, it was when I was about nineteen when I finally showed my girlfriend the movie and explained how much it meant to me. So of course, she would thank me by buying me the James O'Barr comics for my birthday. I was almost brought to tears as I felt that I was now a true fan. James O'Barr's graphic novel became one of my favorite reads and helped me gain an even greater appreciation for the 1994 adaptation. Granted, I hear that if the studio actually got away with remaking 'The Crow', it was actually approved by James O'Barr himself and it would be a more direct adaptation of the comics; much like 'Watchmen' & 'Sin City'. To be fair, I did find that interesting as I did love the comics. But I feel in love with the writing and style of the movie first. So when I rage about the movie being made, you could understand where I come from. Much like 'Inspector Gadget', 'It', 'The Rocky Horror Picture Show', 'Power Rangers', and the 1998 'Godzilla', a part of me couldn't stand to lose another piece of my childhood to the greedy and selfish needs of a group of tight-suited, moronic Hollywood executives.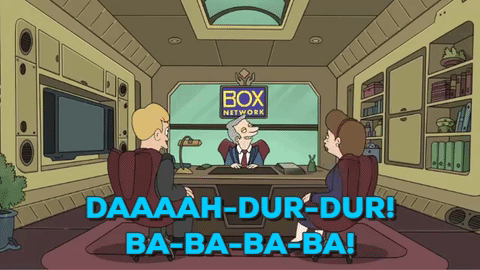 This is all I wanted to do, was give my own personal experiences with 'The Crow' and explain why I hold this film in such high regard. It was one of the most important experiences in my life and I never get tired of watching it. So now, I want to take this time to thank the following people: The film's crew; Alex Proyas(the film's director), James O'Barr(creator), Jeff Most & Edward R. Pressman(the film's producers), David J. Schow & John Shirley(screenwriters), and Graeme Revell(the film's music composer). The actors; Rochelle Davis, Ernie Hudson, Michael Wincott, David Patrick Kelly, Tony Todd, Sofia Shinas, and of course, Brandon Lee. Finally, to the bands associated with the film's soundtrack; The Cure, The Jesus and Mary Chain, Rage Against the Machine, Stone Temple Pilots, Pantera, Machines of Loving Grace, Helmet, Henry Rollins, For Love Not Lisa, My Life With the Thrill Kill Kult, Medicine, Jane Siberry, Violent Femmes, and Nine Inch Nails. Thank you all for this film, thank you for making me the film lover that I am today. Here's to Devil's Night, my new favorite holiday. I know what I'll be watching tonight, I recommend you guys do that same. Buildings burn, people die, but this film is forever.
Tomorrow's Halloween, people…I got a few more surprises for all of you. Until then, Gotta Dash!
Written by Shane Moose
A very special thanks to the three big F's in my life(Friends, Family & Fans) for helping me get this far, pushing me to go even further and for putting up with me when I try going further than that. To hell with my limitations!
Videos & Photos:
Any images and/or clips of The Cure are owned by The Cure
The Crow(1994) (owned by Miramax Films & Dimension Films)
Doctor Who(owned by BBC)
Twilight(owned by Summit Entertainment, Temple Hill Entertainment, Maverick Films, Imprint Entertainment & DMG Entertainment)
Showdown in Little Tokyo(owned by Warner Bros)
Futurama: Bender's Big Score(owned by 20th Century Fox Home Entertainment, Rough Draft Studios & The Curiosity Company)