Hey, guys. This is Dash Jordan here with some breaking news. Tragedy strikes yet again in Hollywood. This time, it's one of our younger and brighter stars. Actor Anton Yelchin was found dead due to a terrible car accident this morning. He was 27 years old. By far, the youngest celebrity death I've ever had the misfortune to write about.
   For those of you who may not know, Yelchin started acting back in the late 1990s, but it wasn't until the early 2000s that he has achieved worldwide recognition. He starred as the titular character in 2001's 'Delivering Milo', and Bobby Garfield in 'Hearts in Atlantis'. Afterwards, he would go on to star in more and more high-profile roles; including Zack Mazursky in 'Alpha Dog', the titular hero in 2007's 'Charlie Barlett', Kyle Reese in 'Terminator: Salvation', Charley Brewster in the 2011 remake of 'Fright Night', the voice of Clumsy Smurf in both live-action 'Smurfs' movies, and most importantly, as Pavel Chekov in J.J. Abrams' rebooted 'Star Trek' film series(with the third film, 'Star Trek Beyond' to be released next month).
As I've mentioned before, Anton Yelchin is probably one of the younger stars I had to cover in my articles. I, for one, am truly heartbroken because he was one of my favourite new actors whose career seemed to only get bigger by the day. I've already mentioned him and his performance as Kyle Reese in my review of 'Terminator: Salvation'. Of course, I would love to talk more about some of his other works sometime in the near future. But it's truly a shame that I didn't have the chance to review any of his other films while he was alive. My heart goes out to his family, his friends, and anyone else who had the privilege of knowing and/or working with him. To say that Anton Yelchin was destined for greatness is a massive understatement. This talented, young man was truly destined to boldly go where no actor has gone before. Rest in peace, Anton Yelchin. You will always be missed, but never forgotten.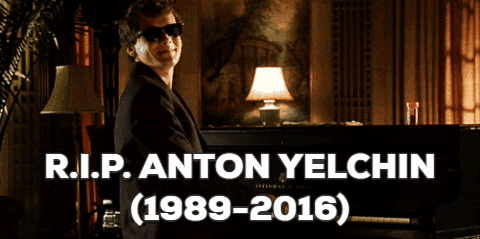 Speaking of which…in honor of Yelchin's life and career, I think I have an idea of what to review next. Until then, Gotta Dash!
Written by Shane Moose
Special thanks to the three big F's in my life(Friends, Family & Fans) for helping me get this far, for pushing me to go even further and for putting up with me when I try going even further than that. To hell with the limitations!
Videos & Photos:
Fright Night(2011)(owned by DreamWorks Pictures, Reliance Entertainment, Michael De Luca Productions, Gaeta/Rosenzweig Films & Walt Disney Studios Motion Pictures)
Star Trek(2009)(owned by Spyglass Entertainment, Bad Robot Productions & Paramount Pictures)
Charlie Barlett(owned by SKE & MGM)