Hey, guys, it's Dash Jordan here. I just want to put a little disclaimer to warn you all that this article may contain images, language, and lyrics from some of the songs featured are NSFW(Not Safe For Work). Also, I think it's worth mentioning that I really had my work cut out for me when it came to looking for certain videos, so I apologize for the video quality; for some of the clips used may look…pretty bad. Other than that, hope you guys enjoy the review. 
   Dearly beloved…we are gathered here today to talk about a man who gave us great music. Electric word-music, which will last forever and that's a mighty long time. But I'm here to tell you, that man is now somewhere else…The After World. A world of never-ending happiness. Where you can always see the sun, day or night. So when you call up that critic from New Jersey…you know the one, Dr. Hey kids, it's the Dash-man. Instead of asking him why such a legend like Prince is gone, Ask him how can I honor and remember him better, baby. Because without Prince's music, things are much harder than in the After World. Without his music, we're on our own. Are we gonna let the loss of an icon break us down?
Oh no…let's go crazy, let's get nuts!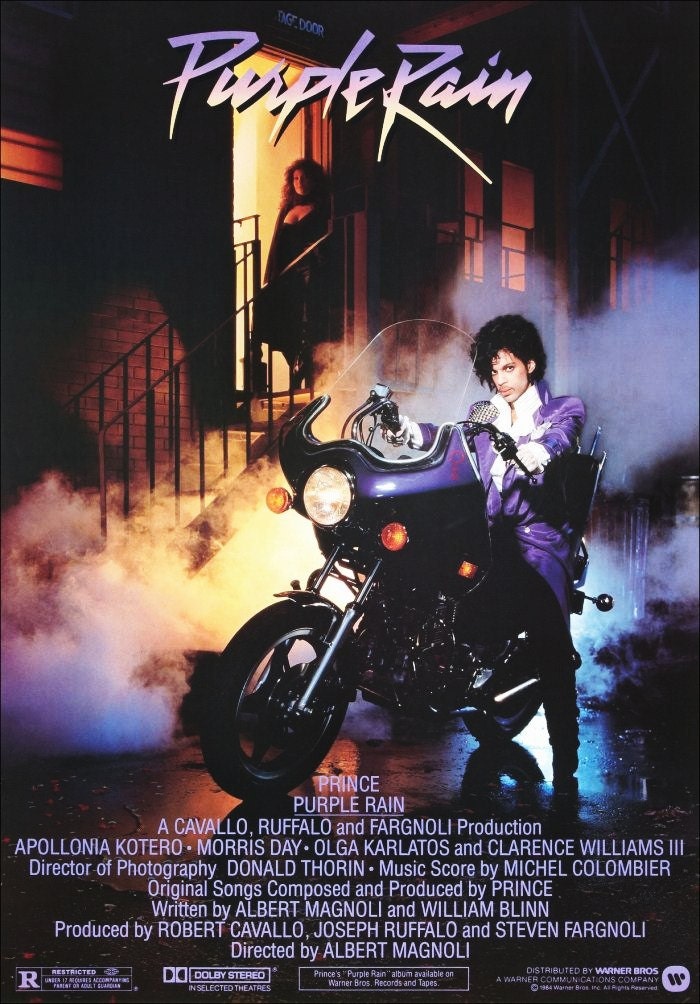 'Purple Rain' was a Rock musical/semi-autobiography from 1984 and directed by Albert Magnoli. During the height of his ever-growing popularity, the film was primarily used to showcase Prince's musical prowess and on-stage talent, as well as giving the spotlight to other similar artists like Morris Day & The Time, Apollonia 6(originally Vanity 6) & Dez Dickerson. The film has gained mixed to positive reviews from critics, grossed over $68 Million in the US, won several awards; including an Academy Award for Best Music and Best Song Score, and has gained a massive cult following over the years. Not to mention the fact that the film is also backed by what many consider being one of the greatest albums, not just in Prince's career, but of all time; winning two Grammys. After the untimely death of Prince, both the film and soundtrack have risen in popularity once more. While there's no denying that the soundtrack is legendary, does the film hold up just as well? Or was the movie just an overblown commercial for a great album?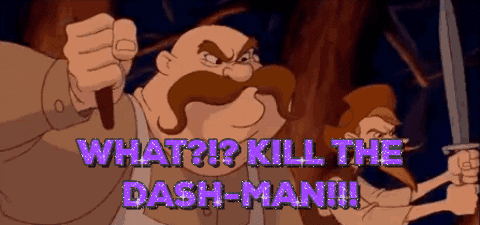 Woah! Wait a minute! Just relax, and let me explain. I'm not going to lie and say that 'Purple Rain' doesn't hold a special place in my heart. Because it does, and it's always been one of my favorite films growing up. When I finally rewatched the movie for this review, I still had a fun time watching it. But I'm also not gonna lie and say that there aren't a few nitpicks or problems I have with the story and moments of the film that made me question some of the choices made. What about the story? So it mainly takes place at this nightclub in Minneapolis where…wait, I almost forgot!
   Thank you, River! So, the story mainly takes place at this nightclub in Minneapolis where two bands are in steady competition; The Revolution, led by "The Kid"(Prince's character) and The Time, led by Morris Day. One is an arrogant yet talented romantic with personal issues and the other is an egocentric and misogynistic playboy.
The rivalry eventually gets more heated when both men are trying to win the affections of a pretty woman named Apollonia, who's also trying to get into the music business…no, I'm not kidding. That IS her real name.
Here's the problem I have with this angle. More of a nitpick, really. So The Kid and Apollonia obviously hit it off pretty quickly, and Morris Day tries to steal her and get her to be the lead singer of a new band he's working on. But really, Apollonia seems like a pretty smart woman. She's in a relationship with a decent guy, with almost god-like talent, who would've been more than willing to help her with your music career, or at least made her a new member of his band. She should be able to tell that Morris is just trying to use her for his own personal gain. There's no way that Apollonia is going to fall for this sleazeball. So she's going to stay with The Kid throughout the whole movie, right?
No, Apollonia instead decides to join The Time, much to the dismay of The Kid. But you know what? The Kid loves her, he's a grown man and he's got his own problems to worry about. After all, this is supposed to be about the music. The Kid will no doubt be a very supportive boyfriend and let her join with Morris, showing that he trusts her to stay professional and not fall for any of Morris' tricks, right?
No, instead The Kid decides to act like a spoiled child and hits her when he doesn't get his way. I'm sorry, didn't catch that? The Kid, played by Prince, a multi-talented musician with the power to seduce and win over any woman he pleases, our main protagonist who were supposed to root for and sympathize with…HITS A WOMAN!
I mean, Jesus! This is what it sounds like when feminists cry! I wanted Prince to knock some sense into her, not knock some sense into her! The first rule of Prince is, you do NOT make Prince unlikeable! I don't mean to ruin the movie for anyone, but come on! Has anyone ever stopped to think about this moment? I know the movie was supposed to be a drama, but really? But it's okay, everything gets resolved when The Kid starts singing a Rock ballad.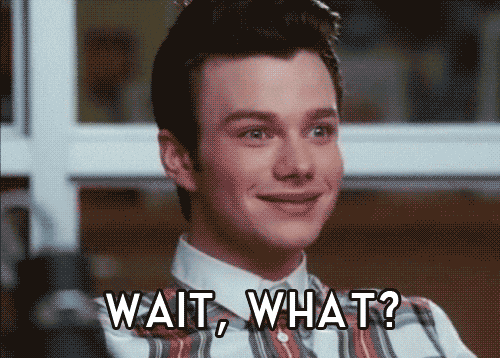 Yep…a Rock ballad. Think of some of the crappiest and most dysfunctional relationships in Pop-culture that could've been saved just by blasting 'Purple Rain'. Bobby Brown & Whitney Houston, Ike & Tina Turner, Chris Brown & Rihanna, Justin Beiber & Selena Gomez, Batman & Superman! To be fair, though, the title track of the film's soundtrack does have that raw emotion and sadness you'd come to expect and is bound to make even the toughest guy a little teary-eyed…especially nowadays.
So yeah, let's move on to a happier note for just a moment. In case you couldn't tell from my awesome opening, I absolutely love 'Let's Go Crazy'. Especially the extended version that plays in the opening of the film, which is absolutely amazing. Not only does this opening show off our actors and their quirks, but it's also the real crowd of extras screaming in the background that makes the experience feel less like a semi-autobiographical drama and more like a live concert movie. You can clearly understand why this was the first song to be played in the movie and on the album. It's loud, catchy, energetic, and features one of the greatest guitar solos you will ever hear in your life.
Unfortunately, the song featured after that awesome opening to the soundtrack is 'Take Me With U', a duet with Prince & Apollonia and one of the weaker songs on the album. I could understand the idea that not every Prince song is going to be a masterpiece, but come on…at least, 'Batdance' was funny. With the exception of the drum solo that appears in the opening, 'Take Me With U' is a just a sappy and forgettable track. I kinda wished they would've used 'Erotic City' instead of 'Take Me With U' since it was the B-side to 'Let's Go Crazy' anyway. I'm convinced that this song was just filler they needed, but for what, exactly? Just so we can get through that scene where The Kid and & Apollonia are at that lake and she starts skinny-dipping?!?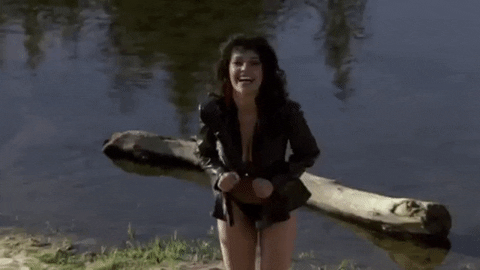 Not that I'm complaining, just not a fan of this song.
   Thankfully, a much better love song is played immediately afterward…'The Beautiful Ones'. What a fitting title for a great song. The slow and romantic elements of a Pop ballad as it builds into a Rock ballad, with Prince pouring his heart into a piano and microphone. One of the best and underrated love songs ever, in my opinion.
Moving on with the rest of the soundtrack, I already mentioned how awesome 'Darling Nikki' was in my first-ever Dash Thoughts, and I even posted the video in that article. I usually try not to repeat myself a whole lot, but I will say that it's still every bit as sexual and angry as I remember. But, what about the song that plays before 'Darling Nikki'. Let's be honest, was there anyone who remembered 'Computer Blue'? Because I certainly forgot about it until I watched the movie again. Honestly, it's not a bad song. A hell of a lot better than 'Take Me With U', but definitely the most overlooked, however. To be fair, every other song on the album is a classic. Lots of Rock and Funk elements mixed in with a very hypnotic synth-pop tune. Of course, the best part of the song, in my opinion, being near the end as it includes a very brief piece of music called 'Father's Song'; which could also be heard played on piano during a pretty poignant scene between The Kid and his father(played by Clarance Williams III). Surprisingly, it's some of the film's quieter moments that also drive the film. Including the subplot with The Kid's relationship with his dysfunctional parents. After all of the bright lights, bombastic Pop music, sexual escapades and 80s cheese, we see The Kid coming home to a domestic disturbance almost every night. A sad and relatable subject for some people, with a very disturbing turn of events near the end of the movie. All of this family drama, on top of his troubles with Apollonia, and with his band…it's no wonder why The Kid becomes such a wreck as the film progresses. All of this pent-up emotion also carries through what's probably the most iconic song off the soundtrack, 'When Doves Cry'. Don't ask me how such depressing subject matter can make for a great dance number, but Prince made it work. Synthesizers hard at work, once again, blended with the same Pop and Funk style that Prince is known for. Arguably the catchiest and most recognizable track on the album.
   But back to the movie. Very rarely do we see music icons turn in good movie performances since music and film are two different mediums. However, it's a surprise to know that, looking back, Prince was a pretty damn good actor.
No, I'm not kidding. Say what you will about 'Under The Cherry Moon' & Graffiti Bridge'(Trust me, I have a lot to say when the time comes), but his acting is actually pretty good. When he's not kicking ass on stage, as usual, he plays The Kid as a very quiet yet arrogant musical prodigy with a lot of emotional baggage. Even when the writing falters, a million words are being said just from Prince's face. Ranging from mysterious and seductive one minute to cocky and funny the next, and to angry and depressed the next, and so on.
Once again! Moving on to a happier note, we can't talk about 'Purple Rain' without mentioning The Kid's rival; Morris Day and his band, The Time. This guy…is one of the best parts of the movie. The music isn't the only thing that helps shed light into this otherwise dark drama, Morris Day and his bandmate/valet Jerome are absolutely hilarious as they chew the scenery.
Did I mention that Prince played a huge part in the music for this movie? Because he was also responsible for the rest of the music that's featured in the film. It's no secret that Prince helped a lot of musicians get their foot in the door, the same can also be said for Morris Day & The Time. 'Jungle Love'? Yeah, that was Prince. But the song is so synonymous with Morris Day's flamboyant and comedic flair, that it could only work with Morris. Emphasizing more on R&B and Funk, in contrast to Prince's music in the film which relies more heavily on Rock & Pop. Unfortunately, since 'Purple Rain' is supposed to be a "Prince" album, 'Jungle Love' was not featured on the soundtrack. BUT IT WILL BE FEATURED HERE!!!
Unfortunately, that means that I would have to talk about Apollonia 6's 'Sex Shooter'. This was the song that I've heard most people rage over. It was nominated for a Golden Razzie for Worst Song, and also helped Apollonia Kotero herself get nominated for Worst New Star. I don't hate Apollonia. She's very beautiful, and I'm sure she's a very nice. I would certainly take her acting over Kristen Stewart's attempts at acting anyway when it comes to acting.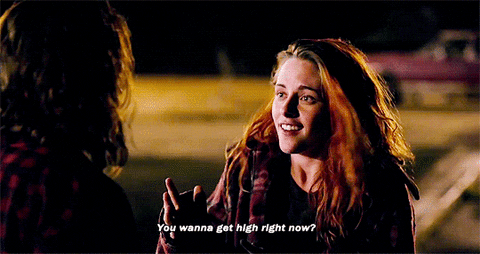 You're an idiot. But honestly, is the song REALLY that bad? Not really. I've heard better songs, sure. But, I've also heard worse songs. While I may prefer the much raunchier Vanity 6 over Apollonia 6, especially when you consider the fact that the role of Prince's love interest was originally going to be Vanity, I'm not going to count out 'Sex Shooter' just yet. The song still remains a cheesy, sex-driven New Wave single, just not the best one. If you want to hear a good Apollonia 6 song, I recommend either, 'Happy Birthday, Mr. Christian' or 'Blue Limousine'. 'Sex Shooter' isn't the shiniest gem, but an underrated one, nonetheless.
Back to Prince, with only two songs left on the album; 'I Would Die 4 U' & 'Baby, I'm A Star'. After everything pretty much gets resolved in the film, these two songs serve as the encore for the live audience and audiences watching in the theaters or at home. While not as hyper as 'Let's Go Crazy' or as powerful as 'Purple Rain', these two songs still manage to be catchy, energetic and fun.
   Okay, time to wrap things up. I've been saying words like "catchy" and "energetic" a lot in this review, haven't I? Well, that was the power of Prince. With the exception of the 'Sign O' The Times' album, this was Prince's apex, hands down. Of course, the movie has a few flaws here and there, but I still had a lot of fun. A sometimes silly yet sometimes compelling story, great acting, memorable lines, and most importantly, some of the best music ever made. Forgetting the rose-tinted glasses and the tragic end of an icon's life, 'Purple Rain' is still a good movie. Even if you're not the biggest fan of the movie, there's no denying the awesomeness that is the soundtrack. If you're a Prince fan, or if you love movie soundtracks, then there should be no reason why you don't already own 'Purple Rain', as it is the quintessential Prince album to have in your collection. Prince…once again, thank you!
That's my two cents, everyone. For those of you who are still here, I wanna thank all of you guys too, for being so patient and supportive. I know it's been awhile since I've posted something, but I've been so busy lately. I knew I was gonna review 'Purple Rain', but I wasn't sure whether I wanted to do the movie or the album…so naturally, I decided to just do both. This may very well be the longest review I've ever written, but I also had to take breaks on it as I had other responsibilities to take care of. If Prince himself could understand, I'm sure you guys can forgive me for taking so long. Speaking of which, it was great to see 'Purple Rain' back in theaters for a bit, I thought that was a very sweet gesture…however, there's one movie that has understandably been overlooked these past few weeks and needs to be addressed.
Boys, settle down! Yes…I went there. Until next time, Gotta Dash!
'Purple Rain' Movie Rating: 8.5/10
Soundtrack Rating: 5/5
Written by Shane Moose
A special thanks to the three big F's in my life(Friends, Family & Fans) for helping me get this far, pushing me to go even further and for putting up with me when I try going further than that. To hell with my limitations!
…And a VERY special thanks to Prince. Thank U 4 everything, U Are A Star & Nothing Compares 2 U!
All images and video clips of Prince are property owned by his estate(Paisley Park Studios)
All WWE images are property owned by WWE
Purple Rain(owned by Warner Bros. & Purple Films)
Beauty & The Beast(Walt Disney Pictures, Walt Disney Feature Animation & Buena Vista Pictures)
Doctor Who(owned by BBC)
Superman Returns(owned by Warner Bros. Pictures, Legendary Pictures, DC Entertainment, Peters Entertainment & Bad Hat Harry Productions)
Glee(owned by 20th Century Fox Television, Brad Falchuk Teley-Vision & Ryan Murphy Productions)
Dogma(owned by Lionsgate & View Askew Productions)
Morris Day & The Time's Jungle Love(owned by Warner Bros. Records, Prince, Morris Day & Jesse Johnson)
American Ultra(owned by Lionsgate, The Bridge Finance Company, Circle of Confusion, Likely Story, Merced Media Partners, PalmStar Media Capital, PalmStar Entertainment & Tadmor Entertainment)
Apollonia 6's Sex Shooter(owned by Warner Bros. Records, Prince, Apollonia Kotero, Brenda Bennett & Susan Moonsie)
Ratchet & Clank 2: Going Commando(owned by Sony Computer Entertainment, Insomniac Games, Idol Minds, Mass Media Inc.)