Hey everyone, Dash Jordan here. Now, before I begin my review, I would just like to give a quick warning to my viewers. Some of the clips featured in this review will actually be music videos and some of those videos may contain some brief nudity and disturbing imagery. Even the songs themselves contain strong language, as well as some highly explicit sex & drug references. So, to any of my younger readers or anyone who may be easily offended, I'm giving you fair warning to stop reading this article. As for everyone else reading, hope you enjoy. Thank you!
   Hey guys, Dash Jordan here and it's time to listen to some tunes. It's been a while and I wanted to do something special for you guys. Think about some of my other Dash Tunes, I was pretty much condensing myself to only soundtracks or rock and metal albums. Trust me, I do listen to other genres and I try to be as diverse as possible. While I may prefer some older music over new music, I won't instantly count something out just because it's different from what I'm used to. With that said, there's been an artist who's been on my radar for a while now. Some of you may have heard of him, and others wish they didn't. But, what do I think? I think he should go to the barbershop and chop off those tentacles on his head. But how's the music?
Released in August 2015, 'Beauty Behind The Madness' is the second studio album from R&B singer The Weeknd. No, that's not a typo. Anyway, Upon release, the album went on to be one of the best-selling albums of that year, received positive feedback from critics and fans alike and even one of the singles was nominated for an Oscar. Yes, he did THAT song…but we'll get to that later.
   I SAID LATER! *ahem* Anyways, with such critical praise and financial success, how do I feel about the album? Could The Weeknd be the welcomed surprise that the R&B genre needed, or is he just another talentless hack who seriously needs to make like his ridiculous hair and fade away?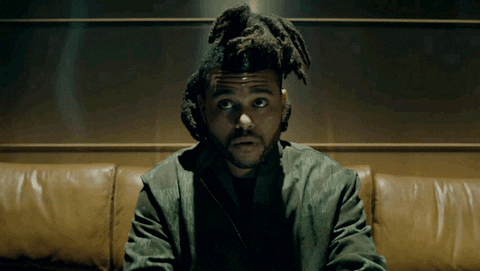 Seriously, what the hell is up with that hair? That hair looks like it just got done raping some Japanese schoolgirls. Honestly, I had no idea that Spongebob's house knew how to sing.
   First off, I gonna have to give credit where credit is due and say that as dumb as he looks, The Weeknd can sing. Obviously taking inspiration from Michael Jackson & Prince, it's no wonder why his fans would consider him a new sex symbol. Especially, when you take into consideration his extremely raunchy lyrics and the slow, hypnotic tone of his music. I think it's worth mentioning once again that The Weeknd holds absolutely no punches when it comes to his writing. Personally, I could do without the harsh language. When someone like Prince starts "talking dirty", at least he's subtle about it. There's being romantic, then there's being sexy, then there's being steamy, then there's porn and then there's being just down right offensive. Not that I'm a prude or anything, I just never cared for music that freely advocates cocaine use and/or constantly refers to women as "bitches" or "whores".
   What? I can have a heart once in awhile, bite me. Anyway, I should let you know that this album started out as a chore. Once I began listening to it, I actually skipped the first song of the album. 'Real Life' was not a good start for me. Then we get to 'Losers' and 'Tell Your Friends'. A tad bit more bearable than 'Real Life', but not by much. The better of those two being 'Tell Your Friends'; even if the language, ego-stroking, and the song's conclusion can feel a little jarring. By jarring, I mean, it almost sounds like an entirely different song by the end. In fact, the ending of that sound actually sounded a little better than the beginning. But, just when I thought his mouth and his ego couldn't get any worse, 'Often' plays immediately afterwards and sounds like a fairly generic R&B/Rap beat. So far, not impressed.

Next thing you know, something strange happened. The song entitled 'The Hills' starts playing, and it's as if a completely different album started playing. Now, I was starting to kind of get what everyone is talking about when they mention The Weeknd's unconventional style of musical instruments and tone. So far, 'The Hills' is actually the best song on the album; managing to combine a raw attitude with unsettling emptiness. I honestly was not expecting this track to go down like this, and it's actually a bit reminiscent of early Depeche Mode with its dark and electronic atmosphere. If you've listened to the song up above, then you understand what I'm saying. As far as the other songs on the album? They actually range from forgettable to catchy, I've yet to find a bad track like the earlier songs at the start of the album. After 'The Hills', I was convinced that it could only go downhill from here. Later on, we get to hear the chaotic and catchy 'Into The Night' and then the eerie yet sweet 'As You Are'. Also, can be found up above. Now, on to the last two and more widely-known songs of the album. First up, is the very overrated 'Can't Feel My Face'.
   Don't get me wrong, I get what The Weeknd was trying to do. Sort of like the big party jam anyone could dance to during the summer, I get it. But, this is the wrong kind of catchy for me. I guess after a song like 'The Hills', I really wasn't in the mood to hear a dance song. No offense to anyone who does like this song, more power to you. 'Can't Feel My Face' just didn't do anything for me and the more I hear it on the street, the more I hate it.
   Ugh…alright. Now, let's get this over with before I break something again. The last song to cover on this album, 'Earned It'. Ever since 2014, everyone has been talking about this song. It was the theme song for 'Fifty Shades Of Grey', it was nominated for three Grammys(winning one for Best R&B Performance) and also received an Academy Award nomination for Best Original Song…really?
No, really? This song almost won an Academy Award? So yeah, take a minute to process that for a second. '50 Shades Of Grey', one of the biggest pieces of crap I've ever seen, the #4 Worst Movie Of 2015 almost won an Oscar! 

   I, myself, am not amused. Without judging the movie…again, 'Earned It' is just your typical, generic-sounding R&B song. It's as if The Weeknd is trying too hard to make this song sexy. Unlike most modern music, I will at least give this song credit for including actual instruments for its music. Other than that, I can not get into this song and it's overstayed its welcome. It;s better than 'Can't Feel My Face', at least. It's a novelty song only meant for one purpose and will eventually fade from existence once they no doubt ask The Weeknd to make another single once 'Fifty Shades Darker' comes out…ugh!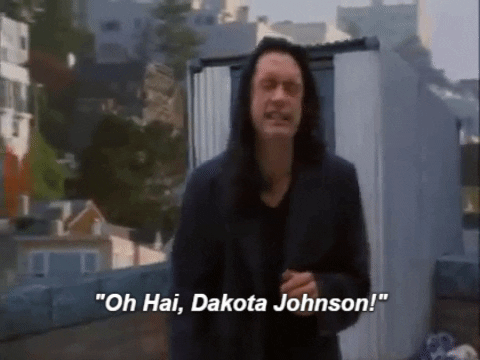 You guys have no idea how much I really wanted to hate this album. With songs that range from forgettable to offensive, with no real structure in between. I don't hate The Weeknd, But this album is not going to win me over anytime soon. However, 'Beauty Behind The Madness' isn't completely annoying. As I've mentioned before, there were at least two songs that were catchy enough to guarantee a second glance in preparation for this review. I can only recommend this album to those who are into R&B. Now, Mr. Weeknd, please go on home and shampoo that mop.
Okay, last hair joke. I promise. Until next time, Gotta Dash!
Rating: 2/5
Written by Shane Moose
The Weeknd's Beauty Behind The Madness(owned by The Weeknd, XO & Republic Records)
Fifty Shades Of Grey(owned by Universal Pictures, Focus Pictures, Michael De Luca Productions & Trigger Street Productions)
Spongebob Squarepants(owned by United Plankton Pictures, Nickelodeon Animation Studios, Viacom International Media Networks & Paramount Television)
The Spongebob Squarepants Movie(owned by Nickelodeon Movies, United Plankton Pictures & paramount Pictures)
Dogma(owned by Lionsgate & View Askew Productions)
Bill & Ted's Excellent Adventure(owned by Orion Pictures, Interscope Communications & Nelson Entertainment)
The Room(owned by Wiseau-Films, Chloe Productions & TPW Films)