This is Dash Jordan to David Bowie…you've really made the grade. Kids, it's said that deaths usually come in threes. After losing other legends like Lemmy and Natalie Cole, no one would ever guess that we would lose the Pale White Duke. Not to mention the fact that the man kept his battle with cancer a complete secret for 18 months. For what it's worth, Bowie went out with a bang with his latest album, 'Blackstar'. That album, was David Bowie's way of saying goodbye and thank you to us. Mr. Bowie, this is my way of saying goodbye and thank you.
   No, no, you did. Now guys, just so you know, I think all of Bowie's music is phenomenal. This is, by far, the hardest Top 10 I've ever had to make. So, bear with me. This is my list of David Bowie songs that have left an impact on me. If you've got a favorite that didn't make the list, please leave your comments and let us converse. But now, on with the list. This is for you, Ziggy.
#10-Cat People(Putting Out Fire)('Cat People' Motion Picture Soundtrack)
  I knew that when did my Top Ten Horror Remakes, there would be a few good ones I would've had to leave out. One of which being the sexually-charged 1982 remake of 1942's 'Cat People'. I will not, however, leave out the equally sexy single that David Bowie made specifically for the film. This song is one hell of a way to kick off this list, in my opinion. it's because of this song's slow and gothic opening, a catchy and lively beat, sensual lyrics that matches the tone of the film, and Bowie's iconic voice that make this song the most memorable thing about the movie…yes, even more memorable than Nastassja Kinski.
Mmm…
#9-Lazarus(Blackstar)
   You have no idea how much I want this new album. It was all because of this song. I don't know why I felt compelled to include one of Bowie's very last singles. This is probably one of Bowie's darker and most depressing of all of his works. I mentioned how he managed to keep his health hidden from us, so I could only imagine the amount of tears that were shed when this video was released. Even at the weakest moments of his life, Bowie still managed to end on a tremendous high-note by giving us a song with raw emotion; coupled with a dark, slow yet jazzy sound which felt a bit like a callback to some of his earlier works. A hell of a way to go out, and we love him for it.
#8-Fame & Fame '90(Young Americans & Changesbowie)
   Time to get down and funky. Since it is pretty much the same song, I'm including both the 1975 original and the 1990 remix in the #8 spot. This is simply proof that Bowie can make gold from any genre. It's pretty obvious what Bowie is singing about, but you cannot deny how infectious this single is. By far, one of the perfect songs from Bowie to get up and dance to. Speaking of which…
#7-Let's Dance(Let's Dance)
   Okay let's face it, Bowie gave us a lot of great songs to dance to and 'Let's Dance' was probably the most well-known of all of them. While he may have frowned upon this point of his career as it would be the beginning of slight decline in the late-80s, this album was still a commercial hit. Especially, with tracks like 'Modern Love', his cover of Iggy Pop's 'China Girl', a rerecording of 'Cat People(Putting Out Fire)' and of course, the ever-catchy title track. What else can be said? Just go put on your red shoes and dance the blues.
Dude…who else takes their sunglasses off like that but you? Anyway, moving on!
#6-As The World Falls Down(Labyrinth)
   In case some of you haven't figured out by now, I FRIGGIN' LOVE 'Labyrinth'! I have been in love with this movie ever since I was a kid. The amazing fairytale atmosphere, Jim Henson's timeless puppetry, the always talented & beautiful Jennifer Connelly, and most importantly, this was the film that introduced me to David Bowie; as both an actor & a musical genius. It was a tough one to decide which song to include from the film, as they were all great and memorable. But, if I had to choose one… Yeah, yeah, I know a lot of people will probably give me a lot crap for not choosing 'Magic Dance'. Don't get me wrong, I love that song too! It's fun, catchy & campy much like 'Labyrinth'. However, when I think about the wonder, enchantment, mystery, as well as some of the film's undertones, I immediately think of 'As The World Falls Down'. I know a lot of fans and common listeners have their own interpretation of this song since it is pretty much a love song. Some of those interpretations being…
   Wow…fans sure do get gross sometimes. Despite that, I will not deny this beautifully-paced single as it is the first song I think of when I think of this Jim Henson-directed classic, as well as one of the first songs I think of when I think of David Bowie. Here's to my childhood.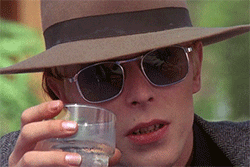 #5-Starman(The Rise & Fall Of Ziggy Stardust & The Spiders From Mars)
I bet you guys were wondering when I was gonna get to Bowie's infamous Ziggy Stardust. Out of all of Bowie's eras, arguable the most memorable is that of the bisexual alien rock star…it sounded better when he would describe it. Granted, there were other great songs from this point of Bowie's career, but this is not a bad introduction either. This song still has the great out-of-this-world tone we'd come to expect, as well as a few ques obviously inspired from 'Over The Rainbow'; which makes perfect sense as the lyrics suggest the Ziggy Stardust character delivering his glam rock-style message to the youths of the world. Great song from a great album.
#4-Changes(Hunky Dory)
Not to make a bad pun or anything…but at the time of this song's release, David Bowie's career, life and the world itself was going through A LOT of "changes" back in the 70s. With time and music evolving, Bowie knew he had to adapt his music in order to fit in and stay relevant; which began his chameleonic style. When you listen to this song and then listen to some of the other songs featured on this list, you can hear all of the drastic differences between them.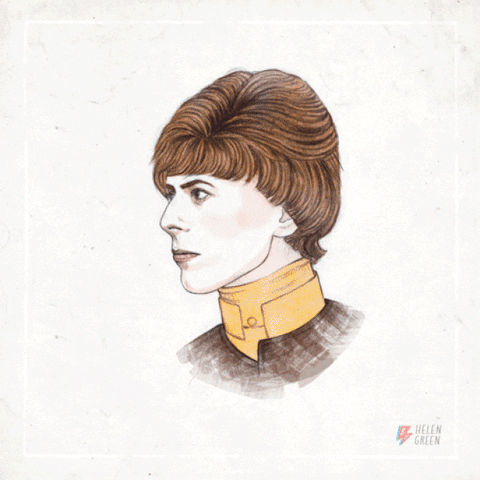 There's not much more to say about this classic, other than that it was a spectacularly-catchy introduction to the man's music for most American listeners. While it was certainly one of Bowie's most well-known songs…you wanna know what was THE most well-known song from his career?
#3-Space Oddity(David Bowie: Man Of Words/Man Of Music a.k.a. David Bowie: Space Oddity)
Don't hate me, because I know that when most people think of David Bowie, this is the first song that comes to mind. Keep in mind, however, that 'Space Oddity' is still very high on my list and to this day, I still get chills when I listen to the song's eerie yet poignant lyrics; lyrics that are still being enjoyed, referenced, homaged and satirized to this day in pop culture. …she knows. Anyway, Bowie's amazing sound completely compliments the tragic tale of Major Tom; which in itself is a metaphor for wanting to stand out from the crowd rather than blending in and getting lost. Fitting for a man who was slowly beginning to transcending history with his genius music and multiple career reinventions.
#2-The Man Who Sold The World(The Man Who Sold The World)
Straight from his 1970 album, is yet another song featuring Bowie figuratively speaking to his past self in this bizarrely captivating title track. Some people(myself included) may have been familiar with the Nirvana cover from 'MTV's Unplugged', but we've all eventually fell more in love with the original. Not much more to say about this beautiful single. All it is, is David's way of reminding himself of the man he once was and to never let his newfound fame and fortune go to his head. It was songs like this that pretty much helped David Bowie…stay David Bowie. That's truly what's so great about David Bowie's music and lyrics. Sometimes, it can be so simplistic and thought-provoking all at the same time. Songs like 'The Man Who Sold The World', which was originally meant as a personal statement for Bowie, can turn around and inspire so many other lives. Now, speaking of "inspiring", my #1 favorite David Bowie song is…
#1-Heroes(Heroes)
The man may have had countless hits and reinventions throughout his career, as well as an impressive acting career…but in my opinion, this was David Bowie's finest hour. Trust me, that is saying a lot. Arguably one of Bowie's most successful albums, 'Heroes' gives us an inspiring tale of two lovers on opposite sides of the of Berlin Wall. See what I mean when I talk about Bowie's simplistic storytelling? Yet, he tells it in such a moving and energetic way.
What else can I say? This is truly a beautiful song. It's Bowie's ingenious lyrics and smooth voice backed by some truly great experimental music. It's no wonder that this single stayed at #3 in the UK charts for so long upon release. A truly magnificent piece of music and one of my absolute favorites. Once again, David…thank you. Thank you for absolutely everything that you've for us, and the music industry. Your spaceship knew which way to go all along…and now you're free, just like that bluebird. Wherever you are, know that you will be missed and remembered…forever and ever.
Not to end things on such a somber note, I would like to make an important announcement to my fellow Bowie fans out there. Especially, some of you who are still sore about me not including 'Magic Dance' in my Top Ten. Well, it's only June 27th…it's not long at all. Think about that.
Until next time, kids…Gotta Dash!
Written by Shane Moose
A special thanks to the three big F's in my life(Friends, Family & Fans) for helping me get this far, pushing me to go even further and for putting up with me when I try going further than that. To hell with my limitations!
…and a VERY special thanks to David Bowie for everything you've done. One day, we'll all be face to face with the Man Who Sold The World once again.
(I do NOT own any songs featured in this article. All songs featured are owned by David Bowie, their respective labels & producers)
Videos & Photos:
Labyrinth(owned by TriStar Pictures & Lucasfilm)
Cat People(1982)(owned by Universal Pictures & RKO Pictures)
The Hunger(owned by MGM & MGM/UA Entertainment)
Zoolander(owned by Paramount Pictures, Village Roadshow Pictures & VH1 Films)
The Man Who Fell To Earth(owned by British Lion Films)
The Venture Bros.(owned by NoodleSoup Productions, World Leaders Entertainment,
Titmouse, Inc., Astro Base GO! & Williams Street)