Hey kids, it's Dash Jordan with some breaking news. Recently, it has been announced that polarizing filmmaker M. Night Shyamalan will be focusing on a TV revival of HBO's classic Horror-Anthology series, 'Tales From The Crypt'. Yes, there may be a chance that we get to see…this again:
Yes, director & writer M. Night Shyamalan has been in talks with TNT to revive the show as part of a new Horror block on their network. The question is…Why M. Night Shyamalan and TNT?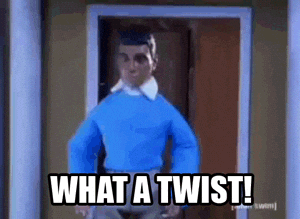 Look, I know Shyamalan directed 'The Sixth Sense' and the man has had something of a resurgence in his career after some positive feedback for 'The Visit', as well as his work on the 'Wayward Pines' TV series. But, did we also forget that he was also responsible for all of this:
…and this:
AND THIS:
Don't worry, this is NOT a rant. Trust me, I was thinking about it. However, I'll try to keep a little bit of an open mind with this new development. Not for Shyamalan, but for TNT. If you remember in my review of 'Demon Knight', I mentioned that the show needs to come back. I will admit that I was a little confused as to why they don't try to revive the show on Netflix or on HBO where it originally started. Especially since the show was notorious for heavy abundance of violence, gore, profanity and sex.
  Which I will admit, is what helped keep people watching. But, this is a new age. If people want sex, they can just go have sex or look up porn rather than hope for next boob shot at 1 a.m. If AMC's 'The Walking Dead' has proved anything, we can still get away with horror-related violence on network violence without causing too much trouble with the FCC.
With that said, here's to the return of my childhood. I shall keep an open mind with the new 'Tales From The Crypt', as well as anything else that may be in store for us on TNT's upcoming Horror block. I only ask a few things of you, Shyamalan…Firstly, don't suck. Secondly, keep the horror & humor of the original EC Comics at a perfect balance. Last, but not least, bring John Kassir back! No John Kassir means no Cryptkeeper. No Cryptkeeper means no 'Tales From The Crypt'!
I'll be keeping an eye on you too, Shyamalan. Until then, Gotta Dash!
Written by Shane Moose
Videos & Photos:
HBO's Tales From The Crypt(owned by HBO, EC Comics, Genesis Entertainment, 20th Television & Warner Home Video)
Robot Chicken(owned by Cartoon Network, ShadowMachine Films,
Stoopid Monkey, Stoopid Buddy Stoodios, Sony Pictures Digital, Sony Pictures Television & Williams Street)
Signs(owned by Touchstone Pictures, Blinding Edge Pictures, The Kennedy/Marshall Company & Buena Vista Pictures)
The Village(owned by Touchstone Pictures, Blinding Edge Pictures, Scott Rudin Productions & Buena Vista Pictures)
Lady In The Water(owned by Legendary Pictures, Blinding Edge Pictures & Warner Bros. Pictures)
The Happening(owned by Spyglass Entertainment, Blinding Edge Pictures, UTV Motion Pictures, Dune Entertainment & 20th Century Fox)
Devil(owned by Media Rights Capital, The Night Chronicles, Blinding Edge Pictures & Universal Pictures)
The Last Airbender(owned by Nickelodeon Movies, Blinding Edge Pictures, The Kennedy/Marshall Company & Paramount Pictures)
The Walking Dead(TV Series)(owned by AMC Studios, Circle of Confusion, Valhalla Entertainment & Idiot Box Productions)