What's going on, guys? It's Dash Jordan here and I've got a great late-Christmas gift for you all. I'm actually surprised I didn't review it before, but now…no more delaying the inevitable. So give yourselves a hand, Horror fans. This year, Christmas will be…OURS!
Christmas, Halloween…I'm the guy with the review.
   'The Nightmare Before Christmas' is a 1993 stop-motion animated musical based on a poem written by Tim Burton; who also serves as the film's producer rather than director due to his contractual commitment to 'Batman Returns'. The story was adapted by Michael McDowell who also collaborated with Burton on 'Beetlejuice', and directed by Henry Selick; who would later go on to direct 'James & The Giant Peach', 'Monkeybone' and 'Coraline'. The film centers around Jack Skellington the Pumpkin King; the spirit of Halloween from Halloween town who grows tired of the same routine year after year. After finding a Christmas Tree-shaped door that teleports him to the snowy and joyful Christmas Town, Jack initially wants to take over and spread his own take of the Christmas spirit…for better or worse.
The film was met with both critical and financial success upon its release. Ever since then, the film has become a cult giant. With plenty of toys, clothes, video games, trading cards, 3-D re-releases, re-releases of the film's soundtrack, and even rumors of a possible sequel in the near future. I don't think there's no other way to state how amazing this movie was.
I guess that'll do. Thanks, Jack. Anyway, there's really not much to say about the film's plot and animation that hasn't already been said over the years. At the time, this film was cited for having one of the most original and inventive plots ever put on film. As far as the animation style, it's simply timeless. As you may already know, I have a soft spot for animation and I'm glad to finally talk more about stop-motion. This form of animation is not only beautiful, but it's also one of the most demanding and time-consuming forms of filmmaking ever. Even if there's a bad stop-motion movie, I will at least respect the filmmakers for using that particular animation style.
Now, on to the voice-acting. Jack Skellington is voiced by both Chris Sarandon and Danny Elfman(during the songs) and is also my favorite part of the entire movie. I've absolutely love this character. The character's overall enthusiasm is really what holds this movie together. While Chris Sarandon is a great actor who continues to voice Jack in other properties, such as Capcom's 'The Nightmare Before Christmas: Oogie's Revenge' and Square Enix's 'Kingdom Hearts' series, I can't help but love the energetic-campiness that is Danny Elfman; who also wrote the music for this film and countless other Tim Burton films.
We also have Tim Burton regulars, Catherine O'Hara and Glenn Shadix as Sally and the Mayor Of Halloween Town, respectively. As well as William Hickey as Doctor Finklestein and Cabaret singer Ken Page as Oogie Boogie; the film's antagonist based on the Boogeyman legend. Everyone in this movie was good and obviously had a blast doing it.
Do I even need to mention Danny Elfman's music in this movie? Do I?!? These songs are some of the most memorable tunes ever. Having a Tim Burton movie without Danny Elfman's music is like eating a pizza without the pepperoni. Even back in Elfman's Oingo Boingo days, the man always had a love for the the quirky and weird. So, of course, it's perfect for the silly and demented mind of Tim Burton.
Once again, there's not much more to be said about 'The Nightmare Before Christmas'. I will admit that the film's popularity has become a little too much in recent years, but that shouldn't take away from anyone's enjoyment of the film. To answer the obvious question…I think it's more than just a Halloween movie or a Christmas movie. The film embraces the dark creepiness of Halloween and the joyous positivity of Christmas. In other words, it's just a Holiday classic and nothing more. It's also one of my favorites. It may not be my #1 favorite Holiday movie and it's definitely not my #1 favorite Tim Burton movie, but it's a favorite, nonetheless. You have my word, you'll love this movie if you haven't seen it yet. The lovely Sally approves.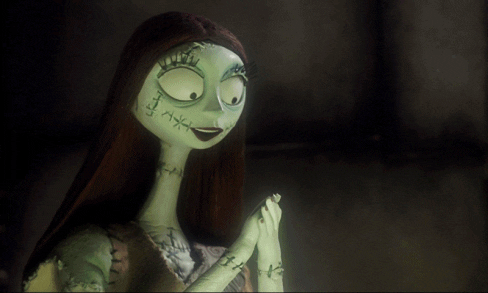 Until next time, kids…Gotta Dash!
Rating: 8.5/10
Written by Shane Moose
The Nightmare Before Christmas(owned by Touchstone Pictures, Skellington Productions & Buena Vista Pictures)
Street Fighter(1994)(owned by Universal Pictures)