Hey kids, Dash is back and it's REQUEST TIME! As I've mentioned on my Top 12 "Traditional" Christmas movies, the people have spoken, and of course, the movie that gets chosen is the one that wasn't on my list…Are you guys trying to set me up, or what?
…Trailers sure were weird back in the 1940s, weren't they?
'Miracle On 34th Street' is a 1947 comedy-drama by George Seaton. The film is about a sweet old man named Kris Kringle, who gets a job as a department store Santa and is quickly excelling in his newfound position. Unfortunately, the man truly believes that he is Santa Claus and is declared insane by some people. Which eventually leads to a trial during Christmas Eve as we, the audience, are left wondering what direction this film will go next. Is Kris Kringle just an innocent and senile old man…or is he truly Santa Claus?
Let me just say this right now, this may not be my favorite Christmas movie but it certainly is a good movie. It won four Academy Awards, including Best Supporting Actor; Edmund Gwenn as Kris Kringle. I, for one, can understand why. The late, great Edmund Gwenn is truly the most entertaining thing about this movie and it's no wonder why some people would believe in Santa Claus after watching this movie. Aside from the fact that he looks like Santa Claus, Gwenn has such a warm and comforting personality. Not just with the children, but even his interactions with the adult characters are some of the funniest and tender moments on film. Just…never speak ill of his friends or the children.
Sorry kids! Don't start crying, okay? I'm sorry! It was supposed to be a clip of Kris Kringle bopping that guy in the head with his cane. But you see what I mean! Anyway, The rest of the acting isn't half bad either. The other great performances in this film are from Hollywood legend, Maureen O'Hara and a very young Natalie Wood as Doris Walker and her daughter Susan, respectively.
Then, there's the plot. I've seen this movie a few times before as a child. As much as I hate to say it…'Miracle On 34th Street' would always bore me.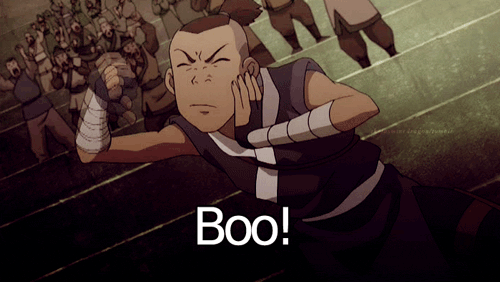 Hey I was five, alright?!? As an adult, however, I can understand why this film is such a classic amongst everyone. Even as a kid, I've always remembered some standout moments from the film. I've always remembered Natalie Wood pulling on Kris Kringle's beard, the Thanksgiving Day Parade, Kringle speaking and singing Dutch to that orphan girl, Kringle getting bubble gum stuck in his beard, and of course, the ending…which I will not spoil for you all if you have not seen the film yet. I'm not like some of those people who were fortunate enough to get a ticket to see 'Star Wars: Episode 7' on opening night and went ahead and spoiled it for everyone else. Pardon my French, kids…but THAT was a dick move and you people deserve a good asskicking from Santa!
He He He, who's next? Now, let's wrap this up! Even though 'Miracle On 34th Street' may not be one of my Top 12 "Traditional" Christmas Movies, I still recommend this movie. It's a Christmas classic with great acting, memorable scenes and of course, an Academy Award-winning Santa Claus.
Well, I gotta say…you guys picked good this time around. I mean, you guys seriously picked a good movie. Well, if you'll excuse me. I think I should go and pick a bad movie to torture myself with. Until next time, Gotta Dash!
Rating: 8/10
Written by Shane Moose
Videos & Photos:
Miracle On 34th Street(owned by 20th Century Fox)
Bad Santa(owned by Dimension Films & Tryptich Pictures)
Avatar: The Last Airbender(Nickelodeon Animation Studios, DR Movie, JM Animation, MOI Animation & Titmouse)
Santa's Slay(owned by Media 8 Entertainment & VIP Medienfonds 1)