Hey kids, it's Dash! Well, time flies when you're having fun. Today marks the eighth day of Hanukkah. So I figured, why not give back to some of the good Jewish folk who've enjoyed my work. Here's my gift to you…for better or worse.
   Every rose has its thorn…just like every Jon Stewart has its Adam Sandler.
   'Eight Crazy Nights' is a 2002 animated musical/comedy starring Adam Sandler; it is also the first animated feature from Sandler's own production company, Happy Madison. Much like Adam Sandler's other films, 'Eight Crazy Nights' is full of crude and juvenile humor and features the same lovable troublemaker that Adam Sandler has been playing since 1993. Which is a good thing for his fanbase. However, the film itself met with a negative reception from critics and opened in fifth place on it's opening weekend. I don't know…I liked it when I saw it in theaters, did it hold up or is this movie the worst thing to ever happen to Adam Sandler's career since 'Jack & Jill'?
Adam Sandler voices Davey Stone; an alcoholic misfit with an obviously depressing backstory, and his antics during the Holiday season as he gets rehabilitated by the very-childlike Whitey Duvall(also voiced by Sandler). As if that wasn't enough comedy gold for you. Sandler also voices Whitey's sister, Eleanor.
Once again, it's an Adam Sandler movie. We've all seen this kind of movie before. Sandler's character is a manchild, he and his friends do something stupid, a snooty villain or an entire town want to get rid of him, Sandler starts to build himself up, he falls in love with the cute blonde, everything goes horribly wrong, Sandler builds himself up again, everything is forgiven, Sandler succeeds in life, one last fart joke, rinse and repeat. On to the more important question. Is 'Eight Crazy Nights' funny? Well, sometimes. Yes, it's a Happy Madison production. It can get offensive, crude and disgusting at times…but, I would be lying if I said I didn't chuckle a few times.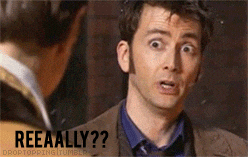 Don't judge me, Doctor! Now, as far as the animation…it's okay. I suppose you could make the argument that the animation style is something of a homage to classic Christmas specials that we grew up with. I do love me some good animation and while it's not bad, I have seen movies that had less than half of the budget 'Eight Crazy Nights' had and still pulled off near-flawless animation. I think you know where I'm going with this.
Well, you're only in one of the greatest animated movies of all time so I bloody-well ought to…Sir! Now, where was I? Right, this movie is also a musical…unfortunately. I think I only remembered three of the songs featured in this movie, and I only liked one of them anyway. You're not really missing out with the songs. These are some of the most forgettable wannabe Disney songs ever, with a view swear words and pee jokes thrown in. Yes, because nothing says Holiday Spirit like obstruction of justice, frozen crap and seizures.
I don't know…there are so many reasons why I should not like this movie. But, it does have a soft spot since this was back when Adam Sandler was still a little funny. Plus, it was interesting to see Sandler do something different by not only making it an animated feature, but making one that celebrates Hanukkah. Obviously, in response to there being such an overabundance of Christmas-themed movies in the past and only a handful of films centered around said Festival Of Lights. Regardless of the overall quality, I will admit that this movie was made in a time when Adam Sandler would at least try to tell a funny story, the jokes are hit-or-miss, and I also respect the reasoning for making this movie. I guess I can consider it a mixed bag, which is a complete shame. If the characters were written better, the jokes were funnier and the songs were more memorable, than it would've had the all the makings for a Hanukkah classic. Oh, and in case you were wondering what that one song from the movie that I liked was…
Say what you will about Adam Sandler and his movies…but put that man behind a guitar and make him sing, you'll have no choice but to laugh. I'm not even Jewish, and I friggin' love this song! So that's my two cents, I hope you've enjoyed it. Next week…it's Request Time!
Oh yes, yes, yes, indeed! Any Christmas movie, any decade, good or bad, it's all up to you. Please leave your requests in the comment section below, on Facebook, Twitter, and Google+, or send me all of your requests directly(gottadash69@yahoo.com). Now, go and have a very Happy Hanukkah! Until next time, Gotta Dashanukkah!
Rating: 6/10
Written by Shane Moose
Eight Crazy Nights(owned by Columbia Puctures & Happy Madison Productions)
Billy Madison(owned by Universal Studios)
Doctor Who(owned by BBC)
Batman: Mask Of The Phantasm(owned by Warner Bros., Warner Bros. Animation & Warner Bros. Family Entertainment)
WWE(owned by WWE)