This is Dash Jordan, coming at you with some breaking news. I know it's not exactly Christmas related, but it could be depending on who you talk to. I've got a real early exclusive for you guys. This is the official trailer for 'Teenage Mutant Ninja Turtles 2: Out Of The Shadows'.
So…how do you guys feel about this? Trust me, I've got a lot to say…but not enough to do another rant. Look, I hate the first movie just as much as the next guy. I hate how the Turtles looked, I hate Megan Fox, I hate how they made The Shredder look like a damn GoBot! The movie was horrible, and I don't even hate Michael Bay as much as most people. Yeah, I've said it! I loved 'Bad Boys', the first 'Transformers' movie and 'The Rock'!
  NOT WHAT I MEANT!!! Anyway, that 'Turtles' movie he produced was crap, and I could smell it a trailer away. This one on the other hand…not so much. Yes, the Turtles still look like crap and Megan Fox is no April O'Neil, let's just get that out of the way. Now, let's talk about some of the new additions. For any of you 'Arrow' fans out there, you'll be happy to know that Stephen Amell will be in the film. That's right! Green Arrow will be playing Casey Jones. So already, there's a little light at this tunnel. Will he be as awesome as Elias Koteas' portrayal from the 1990 film?…that remains to be seen.
Then, we have Brittany Ishibashi as Karai; the high-ranking Foot Clan ninja and The Shredder's daughter. I don't know about her acting, but…
Hmm…uhh, Baxter Stockman! Yeah, he's gonna be in this movie too! This time around, he's being played by Tyler Perry…yeah, THAT Tyler Perry.
Ugh…let's just move on to Bebop & Rocksteady…FINALLY!!!
Aside from The Shredder, Bebop & Rocksteady are two of the most iconic villains from the cartoons and comics. I will admit, I was actually quite shocked and thrilled to finally see this duo appear in one of the movies. They'll be played by Gary Anthony Williams a.k.a. Uncle Ruckus from 'The Boondocks' and current WWE World Heavyweight Champion, Stephen "Sheamus" Farrelly.
How good the performances will be, however, also remains to be seen. But, something tells me that even if this bombs, Bebop & Rocksteady may be the more enjoyable things in the film. Especially, when you take into consideration, how these characters look. Unlike the CGI of the Turtles that look absolutely horrible, Bebop & Rocksteady look friggin' awesome!
As for the rest of the trailer…it appears that there may be some "otherworldly" threat coming for our heroes…are you guys thinking what I'm thinking?
Who knows? I do know this. I personally do like Michael Bay's 'Transformers' but hated 'Transformers 2: Revenge Of The Fallen'. Judging from the trailer, I wouldn't be surprised if the same thing happened in reverse when 'Out Of The Shadows' comes out on June 3rd, 2016. I'll try my best to keep you guys up to date on any developments. Until then, Gotta…nah, let me change it up. You know, for old times' sake. Say it with me now!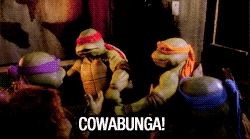 Written by Shane Moose
Teenage Mutant Ninja Turtles 2: Out Of The Shadows(owned by Paramount Pictures, Nickelodeon Movies, Platinum Dunes, Gama Entertainment, Mednick Productions & Heavy Metal)
Teenage Mutant Ninja Turtles(1987 TV Series)(owned by Murakami-Wolf-Swenson, Mirage Studios, Surge Licensing, Group W Productions & Eyemark Entertainment)
Teenage Mutant Ninja Turtles(1990 Film)(owned by New Line Cinema, Golden Harvest, Limelight Entertainment, 888 Productions, Mirage Enterprises & Northshore Investments)
Tooth Fairy(owned by 20th Century Fox, Walden Media, Mayhem Pictures, Blumhouse Productions & Dune Entertainment)
Tyler Perry's I Can Do Bad All By Myself(owned by Lionsgate & Tyler Perry Studios)