Hey everybody, it's Dash Jordan here. Well, I think it's high-time that I'd try something a little different again. So, how about I review a Comedy? Better yet, how about a Comedy starring Eddie Murphy? Nah, I can do better than that. How about a Comedy starring Eddie Murphy AND Richard Pryor?!?
You're welcome…
   'Harlem Nights' is a 1989 comedy starring stand-up legends Eddie Murphy and Richard Pryor as Quick and Sugar Ray, respectively; two nightclub owners who become the targets of mobsters and a crooked cop in the streets of a 1930s Harlem. This also marked the first time Eddie Murphy has directed a film. So hold on a second…he's a comedian, actor, writer, director and singer. Well, I'm now convinced that Eddie Murphy can do no wrong…except for 'The Adventures Of Pluto Nash'.
Anyways, 'Harlem Nights' is basically two of Eddie Murphy's dream projects wrapped into one if you think about it; a period piece and the opportunity to work with one of his heroes. In my professional opinion, Murphy and Pryor are still funny and are a very underrated comedy duo. It truly is a shame that Eddie hasn't directed any more movies after this because on the technical side, he succeeds in making a movie with that 1930s tone all the while reminding the audience that it's very much a comedy. By far one of the funniest scenes in the movie, or at least one that's stuck out the most for me, is where Murphy's character is caught in a car chase and a shootout with a group of thugs; one of them being played by Arsenio Hall, another one of Eddie's closest friends.
The rest of the cast isn't too bad either. Most of the cast pretty much consists of recognizable actors and comedians. While the movie focuses heavily on Murphy and Pryor, 'Harlem Nights' also stars a 3rd comedy legend. Redd Foxx, who most of you may recognize from 'Sanford & Son'. The movie also stars Danny Aiello, Michael Lerner, Della Reese, Berlinda Tolbert, Jasmine Guy, Lela Rochon, Thomas Mikal Ford, Robin Harris and the obligatory cameo by Eddie's brother, Charlie Murphy. Don't remember any of those names?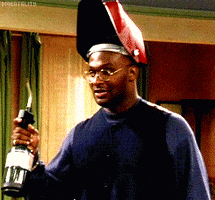 Well, now you do!
Anyways, the real problem with this movie is the fact that both Eddie Murphy and Richard Pryor could do and have done so much better. This was in 1989 so this was merely the beginning of Murphy's eventual fall from greatness, while Pryor's career and life was already in the midst of tragedy. Luckily, these two are still legends in their own right. Already an Eddie Murphy fan growing up, this movie was actually my introduction to Richard Pryor so you gotta give credit where credit's due. It's a bit hard for Eddie to top movies like 'Beverly Hills Cop', 'Coming To America', 'Boomerang' and 'The Nutty Professor', and Pryor will always be remembered more for his stand-up. But trust me, 'Harlem Nights' is anything but a bad movie. It's an average comedy with an authentic 1930s setting and a memorable ensemble cast. In other words, the film is harmless and it's worth checking out. Besides, who could hate a picture as awesome as this?
Yeah, that's what I thought…Until next time, Gotta Dash!
Rating: 6.5/10
Harlem Nights(owned by Paramount Pictures & Eddie Murphy Productions)
The Adventures Of Pluto Nash(owned by Warner Bros. Pictures, Castle Rock Entertainment & Village Roadshow Pictures)
Robot Chicken(owned by Cartoon Network, Williams Street, Sony Pictures Digital, Sony Pictures Television, Stoopid Monkey, Stoopid Buddy Stoodios & ShadowMachine Films)
Moonstruck(owned by MGM)
Godzilla(1998) (owned by TriStar Pictures, Centropolis Entertainment & Sony Pictures Entertainment)
Touched By An Angel(owned by CBS Television Distribution, CBS Entertainment Productions, CBS Productions, Caroline Productions & Moon Water Productions)
The Jeffersons(owned by Sony Pictures Television)
A Different World(owned by Carsey-Werner Productions)
Boomerang(owned by Paramount Pictures, Eddie Murphy Productions & Imagine Films Entertainment)
Martin(owned by Warner Bros. Television Distribution, HBO Independent Productions & You Go Boy! Productions)
House Party(owned by New Line Cinema)
Chappelle's Show(owned by MGM Television, Comedy Partners & Pilot Boy Productions)